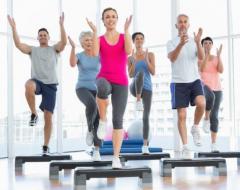 Get Certified
Certification Details
In the Power Step workout you can expect a mixture of upbeat, rhythmic stepping, with squat and lunge patterns to work the legs. Combine this with movements like burpees, push ups and weight plate exercises, and the result is a fun, uplifting, full-body workout! Don't worry, there's heaps of options so that everyone leaves feeling successful.
Our bubbly and approachable instructors coach you through the workout. We play invigorating, hit music and inject a whole lot of fun and personality along the way. You can burn up to 500+ calories and you'll leave buzzing with satisfaction.
Requirements
The following eligibility requirements have been implemented for the certification exam:
Have completed high school (or equivalent).
Be at least 18 years old.
You must hold adult CPR (cardiopulmonary resuscitation) certification and it must be current at the time of the exam. Those submitting proof of CPR with their application will be exempt from future CPR audits, up to the expiration date of the certification. (You may sit for the exam without proof of CPR; however, you will not receive your exam results until you provide proof of current CPR certification.)
Recertification
To get recertified in this certification you either need to earn 15 CEU's or take a new certification workshop. To apply for recertification, please log in to your account.