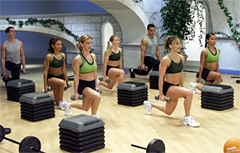 Get Certified
Certification Details
Boot camp is athletic in nature so it's great for someone who's in good physical condition, wants to be physically challenged, but doesn't want to think about following an intricate routine. For this reason boot camp is especially popular with men. Instructors will often act like a coach or drill sergeant and provide lots of verbal motivation as they take you through calisthenics-type exercises like push-ups, crunches and squats. There aren't any entry-level boot camp classes, so this is not a good choice if you're out of shape or just beginning. Remember: one week of boot camp classes will not make up for five years of inactivity. But eventually, just as with basic training, it will beat your unfit body into submission and tone you up.
Topics Covered
Define Boot Camp Class
Cueing and how it is different from regular group exercise classes
Listing of equipments
Health Screening and Risk Stratification
ACSM Guidelines
PAR-Q
Define Oxygen Uptake and Performance
Define Anatomy, Physiology, Kinesiology, and Biomechanics and how it relates to Boot Camp style classes
Define Three Muscular Principles
Define Properties of Muscle Tissues
Physiology, Human Motions, Planes of Motion, Anatomical Directions, and Anatomical Movement
Safety and Exercise
Boot Camp Class Design
Principles of Muscular Strength Assessment and Prescription
Requirements
The following eligibility requirements have been implemented for the certification exam:
You must be at least 18 years of age.
You must hold adult CPR (cardiopulmonary resuscitation) certification and it must be current at the time of the exam. Those submitting proof of CPR with their application will be exempt from future CPR audits, up to the expiration date of the certification. (You may sit for the exam without proof of CPR; however, you will not receive your exam results until you provide proof of current CPR certification.)
In order to take the Certification exams, you must attend the NAFTA workshop for the specific certification you are pursuing and have taken the practical examination component prior to receiving your on line access to the written exam.
Recertification
To get recertified in this certification you either need to earn 15 CEU's or take a new certification workshop. To apply for recertification, please log in to your account.