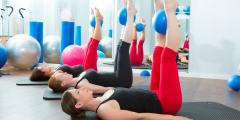 Get Certified
Certification Details
The NAFTA Pilates Program is designed for qualifying fitness and health professionals. Each course in the program has been carefully developed to prepare you to teach NAFTA PILATES safely, effectively and with confidence.

Topics Covered
History of Pilates
How to apply NAFTA principles of core stability, peripheral mobility, breathing, and alignment to relevant exercises
Breakdown of essential and intermediate level exercises
Review the basic 34 movements of Pilates
Exercise essence, muscular initiation and movement sequencing
Variations to increase or decrease exercise intensity
Modifications for specific body types, postural issues and conditions
Effective communication, visual skills, verbal cuing, and imagery for performance enhancement and client motivation
Requirements
The following eligibility requirements have been implemented for the certification exam:
You must be at least 18 years of age.
You must hold adult CPR (cardiopulmonary resuscitation) certification and it must be current at the time of the exam. Those submitting proof of CPR with their application will be exempt from future CPR audits, up to the expiration date of the certification. (You may sit for the exam without proof of CPR; however, you will not receive your exam results until you provide proof of current CPR certification.)
In order to take the Certification exams, you must attend the NAFTA workshop for the specific certification you are pursuing and have taken the practical examination component prior to receiving your on line access to the written exam.
Recertification
To get recertified in this certification you either need to earn 15 CEU's or take a new certification workshop. To apply for recertification, please log in to your account.