Certificate of Advanced Qualifications as a Primary Group Exercise Instructor
Certificate of Advanced Qualifications as a Primary Group Exercise Instructor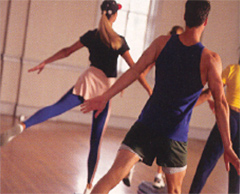 Get Certified
Certification Details
This course is designed to develop the leadership and technical skills needed to motivate and inspire others by conducting group exercise classes also known as Aerobics. You will learn to design new classes using a wide variety of class styles such as: step, circuit and hi/lo and much more.
This course is designed to prepare participants to teach safe and effective group exercise programs through the development of leadership and technical skills. Topics covered are anatomy, physiology, kinesiology, care and prevention of aerobic injuries, aerobic class design, structure and workout combinations, body sculpting and resistance training with weights and tubing and leadership skills. This course is designed for group fitness instructors who may teach aerobics, step and muscle conditioning classes.
Topics Covered
Screening and Assessment
Group Scripting and Sequencing
Exercise Guidelines and Safety
Hi/Lo
Step
Toning
Cueing
Choreography
Designing Group Exercise Classes
Basic Nutrition
Motivation
Marketing
Requirements
The following eligibility requirements have been implemented for the certification exam:
Have completed high school (or equivalent).
You must be at least 18 years of age.
You must hold adult CPR (cardiopulmonary resuscitation) certification and it must be current at the time of the exam. Those submitting proof of CPR with their application will be exempt from future CPR audits, up to the expiration date of the certification. (You may sit for the exam without proof of CPR; however, you will not receive your exam results until you provide proof of current CPR certification.)
Hold a current CPR/AED certification with a live skills check.
Present a current government-issued photo ID with signature (driver's license, passport, military ID)
Recertification
To get recertified in this certification you either need to earn 15 CEU's or take a new certification workshop. To apply for recertification, please log in to your account.