Strong Seniors: Fitness Specialist for Older Adults
Strong Seniors: Fitness Specialist for Older Adults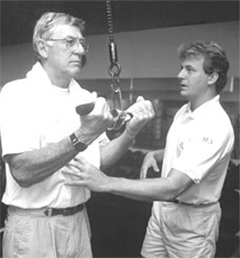 Get Certified
Certification Details
If you're not certified to train older adults, you are missing a huge part of the fitness market. Fitness programming for older adults often requires special considerations due to health conditions, loss of muscular strength, compromised balance or lack of self confidence. This course will help you understand age related conditions, assess abilities and determine appropriates exercise exercise prescriptions for older adults. Newly expanded for 2005 to include more fitness programming for special populations.

Topics Covered
Physiology and Psychology of Aging
Fitness Programming for Low Back
Fitness Programming for Diabetes
Fitness Programming for Hypertension and Stroke
Safety and Screening Guidelines
Physical Changes Concerns
Functional Fitness Assessment
Teaching and Leadership Skills
Chair and Walk Exercise
Nutrition and Aging
Body Awareness and Alignment
Nutritional Needs
Walking
Stretching
Relaxation
Circuits
Pilates
Tai Chi
Requirements
The following eligibility requirements have been implemented for the certification exam:
You must be at least 18 years of age.
You must hold adult CPR (cardiopulmonary resuscitation) certification and it must be current at the time of the exam. Those submitting proof of CPR with their application will be exempt from future CPR audits, up to the expiration date of the certification. (You may sit for the exam without proof of CPR; however, you will not receive your exam results until you provide proof of current CPR certification.)
In order to take the Certification exams, you must attend the NAFTA workshop for the specific certification you are pursuing and have taken the practical examination component prior to receiving your on line access to the written exam.
Recertification
To get recertified in this certification you either need to earn 15 CEU's or take a new certification workshop. To apply for recertification, please log in to your account.