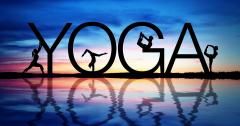 Get Certified
Certification Details
NAFTA's training provides the basic fundamentals a student needs to become certified.
The NAFTA 200 HYIT Course includes Level I-III with 12 Modules:
LEVEL I=100 Hours
Module1-Foundations Yoga-20 hrs
Our intensive, two-day Yoga Foundations workshop provides hands-on experience in teaching beginner yoga formats through a breakdown of 20 poses focused on alignment, safety, variations and breathing techniques. In addition to the basics of class formatting, you'll discuss yoga history through exploration of the 8 limbs, learn the anatomy and physiology of the nervous and respiratory systems, as well as discover ways to encourage and motivate your participants through verbal refinements and inclusive cuing. This certification will provide two sample beginning yoga classes as well as time for practice teaching under the supervision of an experienced yoga teacher.
Module 2-Yoga and Fitness-20 hrs
The intensive-two day Fitness Yoga Specialty Certification provides hands-on experience in teaching multi-level flow- based yoga classes in the fitness center environment. Students will learn multiple regressions and progressions of 15 yoga poses, learn anatomy of the muscular and skeletal systems as it relates to asana demonstration, and learn the basic techniques behind sequencing classes for safety and balance. In addition, students will discover ways to better relate to their audience, communicate with their audience, and create their very own vinyasa based flow practice.
Module 3-Power Flow Yoga-20 hrs
Power flow yoga with exercise techniques to specifically increase strength and endurance. It offers the discipline of a yoga practice and intensity options similar to a challenging fitness class. Participants in NAFTA Power Flow Yoga training will learn to teach a multi-level yoga class with multiple intensity variations, a focus on the breath, traditional asana and stretching sequences, and encouragement of mental focus to help maintain yogic integrity. Yoga for strength classes may be structured to include yoga based flow sequences, body-weight exercises, resistance training with hand-held weights, cardiovascular drills, and core focused training. This training will focus on a foundation of hatha yoga infused with basic principles of cardiorespiratory endurance and long holds for increased strength and muscle adaptation.
Module 4-Yoga for Aging-20 hrs
Yoga for Aging Specialty Certification will prepare instructors to lead dynamic, yet safe yoga classes for an aging population. Participants will spend time in hands-on practice of poses with chair adaptations, learn the basics of teaching techniques for chronic conditions and injury prevention, as well as discuss the physiological effects of aging, using props, and introducing meditation to your classes.
Module 5-Intermediate Yoga- 20 hrs
Take your teaching to the next level with NAFTA Intermediate Yoga-Level II Specialty Certification. Learn to safely introduce intermediate and advanced poses, provide hands on assists and discover ways to fine-tune your alignment cues. Participants will have the opportunity to plan and lead a mini-class, practice intermediate postures, and dig deep into yoga history and philosophy. Please note, there are required readings prior to taking this training, see below.
LEVEL II-50 hrs
Module 6-Yoga for Youth-10 hrs
Yoga for Youth workshop is a fun, interactive and educational experience. This kids' yoga training is designed to help yoga teachers and fitness professionals create an easy bridge to adapting classes to a younger audience. This training will provide an overview of child development, hands-on practice in storytelling and teaching, as well as address ways to creatively and effectively manage a class of young practitioners.
Module 7-Pre and Post Natal Yoga-10 hrs
In this training, instructor's will learn the basic techniques necessary to adapt their traditional yoga classes to be safe and effective for expecting participants. This workshop provides an in-depth look at the anatomy and physiology of pregnancy, provides hands on practice of a sample prenatal yoga class, and gives the opportunity for each instructor the opportunity to practice teach a series of poses pose adaptations. Learn to more effectively use props and design classes that are safe and comfortable for every participants.
Module 8-Restorative Yoga-10 hrs
Restorative yoga is a way to experience true relaxation. As stress and tension are released, healing and upliftment are promoted in body, mind, and spirit. In this workshop, participants will learn a series of restorative yoga poses, learn modifications and prop variations needed for students with special conditions, practice Yoga Nidra, and participate in hands-on teaching sessions.
Module 9-Yoga and Special Populations-10 hrs
Yoga is for everybody. With NAFTA's Yoga for Special Populations workshop, instructors will take an in-depth look at creating an open environment, teaching to students with special needs, and learn ways to help every individual meet their goal in a group setting through a coaching approach. Explore pose adaptations, specialty class themes, and learn ways to make every individual feel comfortable in your class environment.
Module 10-Business and Professionalism -10 hrs
Becoming a Yoga Professional goes beyond the fundamentals of leading a classes by discusses topics that everyone approaching yoga as a business opportunity should know. Instructors will learn to manage difficult situations and relationships, discover ways to better connect as a yoga coach, as well as discover ways to market themselves and earn income. Find your unique voice and put it to use by becoming a yoga professional.
Level III-50 hrs
Module 11-Advanced Yoga Training30 hrs
Advanced Yoga Training, participants will apply learning from the 200-hour training program to practice teaching, skills assessments, final projects and a cumulative final exam. This course serves as the final preparatory step for teachers wishing to apply for Yoga Alliance registration. Participants can expect to dig even deeper into anatomy and physiology, cuing and leadership, as well as yoga history and philosophy. Please note, there are required readings prior to taking this training, Textbooks and manuals for required reading (outside of the live workshops) must be purchased and the costs are not included in tuition or fee payments. The suggested reading books may be purchased at the discretion of the student. Some of the subject matter may be discussed in the classroom.
Module 12-Independent Study-20 hrs
• Specialty project: 10-hour project with presentation during the Advanced Certification for Yoga Teachers workshop (10 hours)
• 4 written class observations (5 hours)
• Nada Yoga observation, research, and presentation (5 hours)
• Attend 3 Yoga classes per week from a certified RYT instructor for 10 weeks (30 hours)
Topics Covered
Theory and Traditions
Anatomy and Kinesiology
History of Yoga
Yoga Poses
Muscle Pairs and Movements
Creating and Teaching Yoga Class
Beyond the Basics
Partner Coaching
Yoga and Special Populations
Requirements
The following eligibility requirements have been implemented for the certification exam:
Have completed high school (or equivalent).
Be at least 18 years old.
Hold a current CPR/AED certification with a live skills check.
You must hold current certification in Basic First Aid and it must be current at the time of the exam. Those submitting proof of First Aid Certification with their application will be exempt from future audits, up to the expiration date of the certification. (You may sit for the exam without proof of First Aid Certification; however, you will not receive your exam results until you provide proof of current First Aid certification.)
Present a current government-issued photo ID with signature (driver's license, passport, military ID)
In order to take the Certification exams, you must attend the NAFTA workshop for the specific certification you are pursuing and have taken the practical examination component prior to receiving your on line access to the written exam.
Recertification
To get recertified in this certification you either need to earn 15 CEU's or take a new certification workshop. To apply for recertification, please log in to your account.