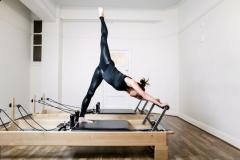 Get Certified
Certification Details
Course Outline
This 5th and final course in NAFTAs Reformer Pilates Series builds upon the knowledge and skills you have developed following NAFTA's Reformer Pilates Level 1, 2, 3 and 4 courses. During this course you will learn advanced Pilates movements, progressing to more upright positions which aim to restore full function. This course will also cover teaching and class planning for specific populations.
Learning Objectives
Following this course you will be able to:
Recognize the value of the Pilates Reformer
Teach a range of advanced Reformer Pilates movements to individuals and small groups
Plan Reformer Pilates classes for specific populations
Apply Reformer Pilates movements for the spine, hip/knee, foot/ankle and mid back/upper limb
Use Reformer Pilates movements that cover control, strength, mobility and stretch
Complete the repertoire to work towards function and return to fitness
Requirements
The following eligibility requirements have been implemented for the certification exam:
Have completed high school (or equivalent).
Be at least 18 years old.
You must hold adult CPR (cardiopulmonary resuscitation) certification and it must be current at the time of the exam. Those submitting proof of CPR with their application will be exempt from future CPR audits, up to the expiration date of the certification. (You may sit for the exam without proof of CPR; however, you will not receive your exam results until you provide proof of current CPR certification.)
Present a current government-issued photo ID with signature (driver's license, passport, military ID)
Recertification
To get recertified in this certification you either need to earn 15 CEU's or take a new certification workshop. To apply for recertification, please log in to your account.