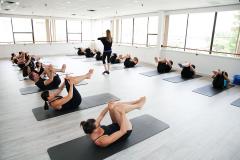 Get Certified
Certification Details
Course Overview
The next level in your training program will focus solely on group teaching, and empower you to begin the journey from clinician to your own group Pilates Instruction. In this course you will learn the vital aspects of class planning, warm-ups, cool downs, standing exercises, and how to design population-specific classes.
Learning Objectives
At the conclusion of this course you will be able to:
Identify and solve issues associated with establishing a Pilates program within their work setting
Recognise important areas such as assessment, inclusion criteria, outcome measures, advertising, and insurance
Use a new repertoire of warm-up and cool down exercises
Use small equipment to enhance the class's experience
Prepare a Pilates class made up of 3 sections: warm-up, body, cool down
Design population-specific classes
Prepare and produce Pilates classes for a group setting
Requirements
The following eligibility requirements have been implemented for the certification exam:
Have completed high school (or equivalent).
Be at least 18 years old.
You must hold adult CPR (cardiopulmonary resuscitation) certification and it must be current at the time of the exam. Those submitting proof of CPR with their application will be exempt from future CPR audits, up to the expiration date of the certification. (You may sit for the exam without proof of CPR; however, you will not receive your exam results until you provide proof of current CPR certification.)
Present a current government-issued photo ID with signature (driver's license, passport, military ID)
Recertification
To get recertified in this certification you either need to earn 15 CEU's or take a new certification workshop. To apply for recertification, please log in to your account.