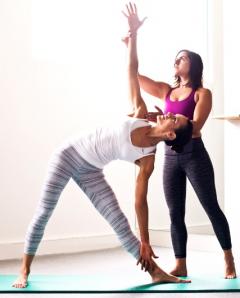 Get Certified
Certification Details
This NAFTA Certification covers all the basics of teaching the foundations to Yoga. The course covers Yoga Anatomy, The Eight Limbs of Yoga, The Yoga Diet and Breath Control. The NAFTA Yoga Level 1-Foundations Certification Program will give you detailed information on how to provide your students with a safe Hatha Yoga class in a yoga studio or fitness class environment. We look forward to seeing you on the mat.
Upon completion of the workshop and the online examination, you will earn the NAFTA's Mindbody Instructor Certificate as a Yoga Instructor Level 1
Instruction components:
90 Hours Yoga Techniques, Training and Practices
30 Hours Teaching Methodology
30 Hours Anatomy, Physiology, and Kinesiology
50 Hours Yoga Philosophy, Ethics and Lifestyle
Requirements
The following eligibility requirements have been implemented for the certification exam:
Have completed high school (or equivalent).
Be at least 18 years old.
You must be at least 18 years of age.
Hold a current CPR/AED certification with a live skills check.
Present a current government-issued photo ID with signature (driver's license, passport, military ID)
In order to take the Certification exams, you must attend the NAFTA workshop for the specific certification you are pursuing and have taken the practical examination component prior to receiving your on line access to the written exam.
Recertification
To get recertified in this certification you either need to earn 15 CEU's or take a new certification workshop. To apply for recertification, please log in to your account.