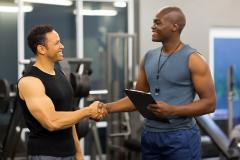 Get Certified
Certification Details
Our Trainer and Curriculum Specialist educates, engages and empowers educators to successfully learn our research-based strategies and create a successful professional development experience. Join us and become part of our rich legacy of making a difference in the quality of fitness education for all, through excellence in providing professional development for fitness staff. We turn knowledge about what works in education into practical, effective strategies and training for educators and education leaders, to help fitness professionals be successful. Our trainers have the willingness to cultivate meaningful connections within the fitness profession. A drive to join a community of entrepreneurial trainers and educators. A relentless desire to advance and learn. Ability to work remotely and propel their own success.
Requirements
The following eligibility requirements have been implemented for the certification exam:
Have completed high school (or equivalent).
Be at least 18 years old.
You must be at least 18 years of age.
You must hold adult CPR (cardiopulmonary resuscitation) certification and it must be current at the time of the exam. Those submitting proof of CPR with their application will be exempt from future CPR audits, up to the expiration date of the certification. (You may sit for the exam without proof of CPR; however, you will not receive your exam results until you provide proof of current CPR certification.)
Recertification
To get recertified in this certification you either need to earn 15 CEU's or take a new certification workshop. To apply for recertification, please log in to your account.