Exercise Programming for Older Adults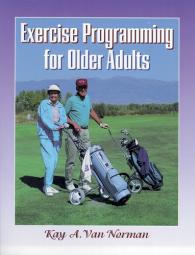 Kay Van Norman
Copyright 1995
120pp
Paperback

About the Product
As our population ages and the cost of health care continues to climb, the demand for exercise options for seniors continues to grow.

This book provides everything you need in order to develop, market, and manage a fitness program for older adults. It sets the stage for safe and effective exercise programming by explaining the unique factors you need to consider when developing a program for seniors:

Age-related changes in the cardiopulmonary, nervous, and musculoskeletal systems and the effect of exercise on these systems
Physical conditions that can affect the safety of exercise, including hypertension, cardiovascular disease, pulmonary disease, arthritis, and osteoporosis
Psychological and social aspects of aging and how they are influenced by exercise

You'll also find clear guidelines on how to structure a program to effectively meet the special needs of older exercisers, including information on class format, safety and liability, exercise intensity, social components, and more.
A major portion of the book is devoted to presenting 105 land-based and 74 water-based exercises. All have been field-tested in a successful senior exercise program; they include chair exercises, basic conditioning, low-impact aerobics, water aerobics, and water exercises for people with arthritis. Numerous photos, charts, and drawings illustrate how participants can correctly and safely perform each exercise.

Exercise Programming for Older Adults also details the necessary steps for developing and promoting a senior exercise program in your community, from locating an appropriate facility to using the media to reach clients.