Pre-Exercise Health Screening Guide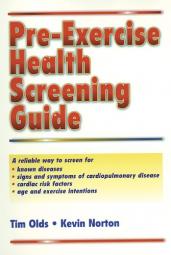 Tim Olds
Copyright 1999
88pp
Paperback
About the Product
Learn the compelling reasons for pre-exercise screening and how to easily apply effective screening guidelines in your program. The Pre-Exercise Health Screening Guide provides detailed explanations of common risk factors and how they are addressed by the current ACSM screening system.

The publication takes you through each step of the screening process, explaining the rationale underlying each stage of effective pre-exercise screening. You'll also learn how to identify clients who have medical conditions that increase risk during exercise or exercise testing.

The Pre-Exercise Health Screening Guide features useful reference and professional tools including:


Sample letters and reports, making it easy to share information with clients, testing facilities, and physicians
A comprehensive pre-exercise screening questionnaire
Practice exercises offering an effective method to hone your
skills in applying the ACSM screening system
A pharmacopoeia identifying the common actions of over-the-counter and frequently prescribed drugs that may affect pre-exercise screening decisions

The Pre-Exercise Health Screening Guide will ensure efficient and effective pre-exercise screening by clarifying the process for you. You'll know when referrals for additional assessments are warranted, improving the quality of services you offer and decreasing your risk for liability.

The guide was developed by Tim Olds, PhD, and Kevin Norton, PhD, of the University of South Australia, creators of HealthScreen.

There's no better way to quickly learn the reasons for pre-exercise screening and how to apply them than with this valuable reference.