Strength Training Anatomy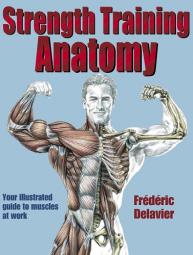 Frederic Delavier
Copyright 2001
128pp
Paperback
About the Product
pGet an inside view of the muscles in action during every exercise you perform. This indispensable reference contains detailed anatomical drawings of strength exercises for the entire body, covering every major muscle group:

Arms
Shoulders
Chest
Back
Legs
Buttocks
Abdomen

The detailed illustrations graphically depict the muscles and bones of each region, showing how the muscles interact with the joints and skeletal functions during each exercise. The quality of the drawings is unmatched in any other strength training book and they are color-coded to show exactly which muscles are isolated. It's like having an X ray of each exercise!

Strength Training Anatomy helps you isolate the muscles you need to work so you can obtain the results you want. It also includes numerous exercise variations so you can target specific muscles and customize your strength training regimen to suit your needs.

Author and illustrator Frédéric Delavier also helps you gain a better understanding of your body and avoid wrong and potentially harmful techniques. As you learn more about differences in body types, you will be able to accept the things you can and cannot do based on your individual physicque.

If you're looking for more than a standard strength training book, Strength Training Anatomy is for you. It's an excellent anatomical reference for every fitness and strength training enthusiast and professional.