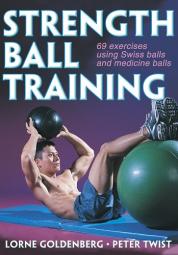 Lorne Goldenberg,
Copyright 2002
208pp
Paperback

About the Product
You can't develop functional strength without stability. Strength Ball Training shows you how to combine Swiss ball and medicine ball exercises to develop greater strength and stability and enhance your sport performance.

Because strength balls provide an unstable environment in which to train, they prepare you to meet the unique demands of the sport environment. This environment is where interaction with teammates and counteraction to opponents, read-and-react situations, and body contact can all force your body into unpredictable, unstable positions. By using stability balls in your training program, you can improve performance, reduce the risk of injury, improve balance, and build strength in the abdomen and lower back.

Written by strength and conditioning experts, Strength Ball Training is your complete guide to using Swiss balls and medicine balls. The book describes how to incorporate the balls into a program, and it provides hundreds of exercise variations to make training fun and interesting.

Strength Ball Training is a gimmick-free book based on scientific training principles. The authors are strength training experts who are well known throughout North America. Lorne Goldenberg has served as a strength and conditioning coach for four National Hockey League (NHL) teams, Team Canada's hockey team, and football players in the Canadian Football League (CFL). He also lectures internationally on stability ball exercises and program integration. Peter Twist is the strength and conditioning coach for the Vancouver Canucks and author of Complete Conditioning for Hockey, which has sold more than 18,000 copies to date. Twist lectures internationally on medicine ball and strength ball training.

Strength Ball Training presents 76 exercises that target all of the major muscle groups:


Shoulders and upper back
Biceps, triceps, and forearms
Chest
Abs and lower back
Legs and hips

More than 140 photos show the precise steps in performing each exercise.

If you're looking for a guide to the most effective way to enhance traditional training methods, get results with Strength Ball Training.