Child Health, Nutrition, and Physical Activity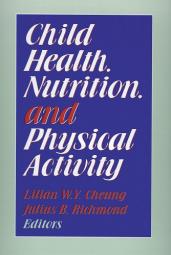 Cheung, Lilian
Copyright 1995
392pp
Hardback
About the Product
Child Health, Nutrition, and Physical Activity offers a comprehensive review of the latest information on nutrition, physical activity, eating disorders, obesity in childhood, and prevention of chronic disease in adulthood. This book is a result of the groundbreaking Harvard Conference on Nutrition and Physical Activity of Children and Youth, which brought together some of the top professionals in the field, including former U.S. Surgeon General Julius Richmond.

Each chapter

Identifies important health considerations for American youth,
describes and critiques previous interventions and current behavior patterns,
identifies gaps in current knowledge, and recommends ways to improve nutrition and fitness in children and adolescents.

Each chapter is followed by several insightful commentaries that view these challenging issues from different perspectives. The book also provides an overview of nutrition and physical activity as they affect child health, and suggests how industry, the media, government, and academia can each play a role in improving child health. Child Health, Nutrition, and Physical Activity is an important reference for medical and nutrition professionals, sports medicine researchers and practitioners, school and public health personnel, physical educators, and others involved in promoting child health. It's also suitable as a text for upper-division undergraduate and graduate-level courses in public health policy, pediatric exercise science, pediatric nutrition, health promotion, and related courses.