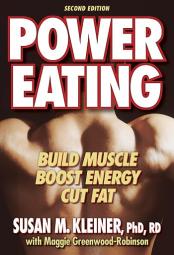 2nd Edition
Kleiner, Susan
Copyright 2001
288pp
Paperback
About the Product
Need to gain muscle while cutting fat? Follow the number one plan for strength training and bodybuilding. This new edition gives you cutting-edge information on how to eat to build strength and power, increase energy, and lose fat. The book has been expanded, with new intake guidelines for supplements and herbs, a new section on "designer waters," and more recipes for the author's popular smoothies.

Written by a consultant to the NBA, NFL, and world-class bodybuilders, Power Eating is your nutritional guidebook for a strong and sculpted physique. It contains the latest scientific and practical advice on eating for strength and power. This edition presents new and expanded sections on fueling, proteins, fluids, supplements, herbs, timing of eating, diet plans, menus, and recipes. Also included are new success stories from athletes and everyday people interested in staying strong and performing at their best.

The new material on supplements includes up-to-date information on vitamins and minerals, muscle-building products, and performance herbs. You can use Kleiner's own rating system to make informed decisions on whether particular supplements are worth the investment, possibly useful, a waste of time, or harmful.

The book includes calorie recommendations and proven eating plans for both men and women to help you meet specific goals in

gaining muscle,
cutting weight,
maintaining weight, and
tapering for competitions.

You'll also find detailed advice on how to customize an eating program and unbeatable recipes that will keep you picking up the book time and again.

Use the Power Eating diet plans to get your body where you want it to be, when you want it to be there—and keep you healthy, safe, and legal. You can have it all–with Power Eating!