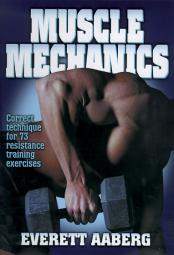 Aaberg, Everett
Copyright 1998
224pp
Paperback
About the Product
The benefits of resistance training have been well-documented by researchers and well-publicized by the media. Today, individuals of all ages recognize that resistance training is a useful tool for building muscle, preventing and rehabilitating injuries, fighting certain diseases, and improving the way they look and feel.

Unfortunately, many people who participate in resistance training never learn the proper way to work out with weights. They train haphazardly and end up doing more harm than good.

Muscle Mechanics was written to teach resistance trainers the safest and most effective techniques for performing 73 exercises. For each exercise, the book provides detailed, full-body or waist-down illustrations to show which muscles should be used for each lift. Several exercises are included for each region and for every major muscle group of the body.

Author Everett Aaberg, a expert on resistance training, also provides lifters with an introduction to selecting and combining the exercises to form a program that is appropriate for their abilities and goals. He explains how to determine the appropriate number of sets, repetitions, and amount of resistance, and he provides several sample programs.

Muscle Mechanics gives resistance trainers the information they need to get the results they want. It's ideal for anyone interested in gaining strength and improving muscular development, from fitness enthusiasts to competitive athletes. It's also the perfect tool for those who teach resistance training, such as strength and conditioning coaches and personal trainers.