Health Fitness Instructor's Handbook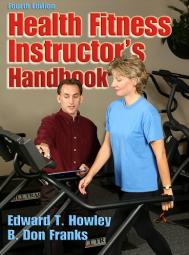 4th Edition
Howley, Edward
Copyright 2003
584pp
Hardback
About the Product
Health Fitness Instructor's Handbook, Fourth Edition, is the most comprehensive and up-to-date book available for health and fitness professionals who want to learn about the latest advances in physical fitness. It provides the latest information on the fundamentals of fitness, exercise physiology, and biomechanics. Used in the ACSM Health Fitness Instructor Workshops since 1986, it will help you develop meaningful and safe fitness programs, including exercise for special populations. It will also help you prepare for the ACSM Health Fitness Instructor Certification Examination.

Expanded and now in full color, this edition has been updated to reflect the 2000 ACSM guidelines and positions, ensuring that test takers–and field users–have current credentials. Also included in this new edition is a new emphasis on the clinical aspects of exercise science.

Respected exercise scientists Howley and Franks have enhanced the fourth edition with the following features:
Heavier focus on assessment, testing, and calibrating testing equipment for more meaningful programs and to ensure participant safety

Greatly expanded coverage of exercise prescription for special populations–including clients with special needs and health conditions, youth, and the elderly

New and reorganized chapters on muscular fitness assessment and guidelines for strength and muscular endurance training

Reprintable forms and checklists that you can easily fit into your own fitness environment or use to construct your own forms

Full-color illustrations and photos

Highlighted research that makes it easy to find new theories and current issues in the field
This text is an indispensable reference full of practical advice for every health and fitness student, candidate preparing for the ACSM Health Fitness Instructor Certification Exam, and practicing professional.