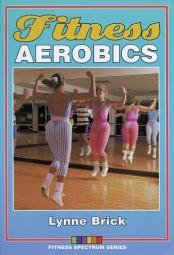 Brick, Lynne
Copyright 1996
176pp
Paperback
About the Product
No matter what your fitness level, goal, or experience is, Fitness Aerobics will help you get the results you want.

This easy-to-use manual takes the guesswork out of aerobic exercise in its many different forms--chair, low impact, high/low impact, interval, step, and slide. It shows you how to create an effective yet fun aerobics program and add variety to your workouts.

Author Lynne Brick, internationally acclaimed fitness expert and IDEA's 1990 Fitness Instructor of the Year, starts by helping you get prepared--from selecting the proper equipment to executing the basic moves. She then provides 42 color-coded, progressive aerobic workouts that you can combine to create a training program that matches your fitness level and personal goals.