Strength Basics - Your Guide to Resistance Training for Health and Optimal Performance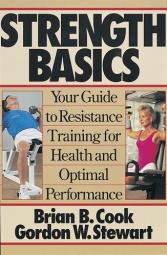 Cook, Brian B.
Copyright 1996
216pp
Paperback
About the Product
Whether you're young or old, male or female, seeking better health or better performance, success starts with Strength Basics.
This easy-to-understand guide explains the basics of resistance training and shows you how to design a training program using the most commonly found types of equipment.
Written for beginning and less-experienced strength trainers, the book's practical, how-to advice for safe and effective workouts will ensure you're on the right track. You'll discover the benefits of resistance training, how and why it works, how to choose equipment, and how to get the results you want. More than 140 illustrations show you how to perform the 75 exercises and use the equipment correctly.
Here's what you'll learn:
The theory and benefits of resistance training
How to set reasonable, attainable, and worthwhile goals
How to adapt training programs for different age groups and fitness goals
How to design an individualized program
Tips for injury-free training, including stretching and warm-up routines
22 equipment-free exercises that use your own body weight or inexpensive tubing and exercise bands
20 well-balanced training routines using free weights and stack-weight equipment
24 advanced exercises to add to your workouts and help fight boredom
16 ready-to-use, sport-specific programs designed to meet the demands of your favorite sports or recreational activities

Strength Basics also includes forms to help you get started, monitor progress, and stay on track. Suggested readings list more advanced and specific sources of information.

Follow the sensible advice in Strength Basics and get stronger. It's that simple.