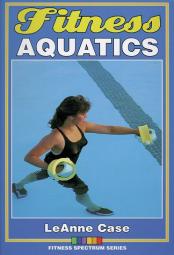 Case, Leanne
Copyright 1997
176pp
Paperback
About the Product
Whether you're someone seeking a fun way to get in shape or a competitive swimmer looking for a training edge, you'll find the right workouts for you in Fitness Aquatics. With 60 color-coded workouts varying in length and intensity and three sample training programs, this easy-to-use guide allows you to customize your own workouts.
In Part I author and water fitness expert LeAnne Case provides:
information on what equipment to use,
a fitness test to help with knowing where to start your training,
instruction on correct aquatic training technique, and
information and exercises to help you warm up and cool down properly.
Part II describes 60 aquatic workouts with exercises are evenly distributed across six color-coded zones according to level of difficulty—green workouts are the easiest, red workouts the hardest.
Each workout's detailed description covers warm-up, training time, technique, difficulty rating, cool-down, gauging calories burned, and workout tips.
Part III offers sample programs to help you structure workouts into an overall training regimen. These programs can be used as is or as a guide to develop a routine suited to your specific needs.
Fitness Aquatics offers expert advice to help people of all ages and abilities enjoy getting fit.
<!--[endif]-->